Accompanying families and individuals
Our members help refugees with the everyday problems of their new lives in Germany.
Café Hand in Hand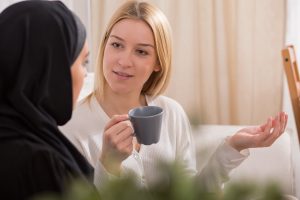 A particularly good opportunity to meet and exchange with people from all over the world in a relaxed atmosphere is our international weekly Café Hand in Hand.
Time and place:
Monday, 5 pm
JuZ Wittmund, Heinrich-Heine-Str. 1, Wittmund
The entrance is at the back.
See you there soon!
You can find more information on our events here.
Meet and greet for refugees from Ukraine
The entrance is at the back.
Just drop by for a visit. We are happy to welcome new visitors!
You can find individual information about the dates here.
Discussion group for refugees from Ukraine
We support refugees from Ukraine in coping with their everyday life in Wittmund.
Contact:
Sonja Gerz    +49152 39517738
Manfred Sell  +49151 20196156
Conversation course
Refugees often want more opportunities to use the language skills acquired in German courses. Our conversation course offers them the opportunity to do so. It is aimed in particular at people who already have a good level of German. A wide variety of topics and questions are discussed. New participants are very welcome.
Time and place:
Thursday, 5.00 – 6.30 p.m.
Sniederhus, Am Kirchplatz 5, Wittmund